Hari minggu yang membosankan jangan dibiarkan begitu saja keadaannya, akan menyebabkan hal-hal yang diluar kesadaran, misalnya banyak makan, keluyuran tak menentu, atau lainnya. Hari minggu yang membuat aku jenuh, aku lewatkan dengan merekam lagu "Can You Feel The Love Tonight" dengan melodi Saxophone Tenor yang aku mainkan sendiri.
Aku rekam secara langsung pakai handycame, akhirnya hari-hari yang membosankan menjadi mengasikkan. Memang kita harus pandai mencari kegiatan yang menyenangkan yang bermanfaat dan berarti, agar setiap hari akan terisi hal-hal yang menyenangkan.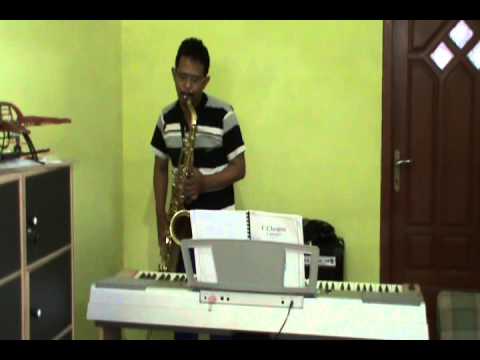 Bagi yang membutuhkan partiture dan file MIDI silakan download di link berikut ini.
"Can You Feel The Love Tonight"
There's a calm surrender to the rush of day
When the heat of a rolling wind can be turned away
An enchanted moment, and it sees me through
It's enough for this restless warrior just to be with you
And can you feel the love tonight
It is where we are
It's enough for this wide-eyed wanderer
That we got this far
And can you feel the love tonight
How it's laid to rest
It's enough to make kings and vagabonds
Believe the very best
There's a time for everyone if they only learn
That the twisting kaleidoscope moves us all in turn
There's a rhyme and reason to the wild outdoors
When the heart of this star-crossed voyager beats in time with yours
Last updated by Bambang Siswoyo at .