This time, I tested my tricopter in field's University of Brawijaya. I enjoyed it, and tricopter very stable. Battery capacity prevented me from playing much longer time. Less than 5 minutes tricopter flying, battery alarm was sounded, as a sign tricopter must go down to the runway. I will order the LIPO about 6000mAH, later.
Specifications
Frame size:Arm size, Motor axel to center about 47Cm. Motor axel to motor axel about 82Cm. Height about 19Cm.
Brushless motor:3 x DT750, drive with 20A ESC.
Propeller:1 CW 11×4.7 + 2 CCW 11×4.7
Controller:KK Board ATMega 168
Power:LIPO Turnigy nano tech 50A, 2200maH
Weight:Total 1290gr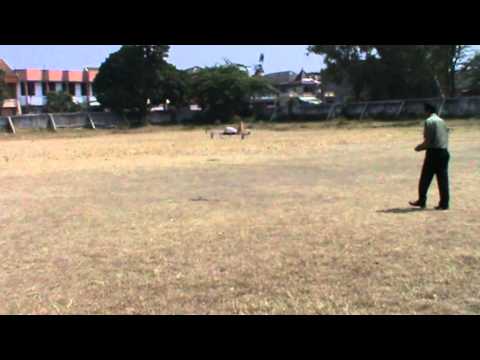 Last updated by Bambang Siswoyo at .