The first version of tricopter frame that I made as I have been positing here, too heavy to fly. I am not satisfied then create a new one is version 2 as I have been posting here. 
Version 2 is flying at very stable, but unfortunately I did not record it in video form. The last time before the crash, photos of tricopter looks like the following.
The total weight of about 1.2kg, using Lipo 2200mAh, 3 pieces of DT750, 3 pieces 10×4.7 propeller. Due to my carelessness as the less experienced pilots to fly tricopter, finally fell. The damage was a broken rear propeller, rear arms folded toward the front.
 This accident caused me as a pilot can not estimate the time of flight, at an altitude of about 6m out of power. But of this accident I have weaknesses that exist in the frame.  Weaknesses are:
Rear Arms too flexible towards the horizontal. This will cause oscillation when it will take off, due to the thrust vector.
The whole arm is less robust. Required construction with a lightweight and robust materials.
It should be added to the cage, to protect the rotor of the motor.
The third version of the tricopter frame
 This third version, I use a wooden beam 1cmx0.5cm as his arm. I combine the two beams of wood with a plastic spacer with a distance of about 1.8cm. 

Center Plate
 As the center plate, i continue to use acrylic with a thickness of 4mm. By using acrylic, 3 pieces of the arm can be held with strong enough.  
The front of the bottom plate made extending, place prepared for lipo. Usually the rear arm is heavier than the front left and right arm because there is a servo and mechanical, so it can be used to balance the CG position at its center.
If necessary center plate will be cut into smaller in size, but does not reduce strength to hold the arm. 
Center plate has sufficient space about 3cm wide, enough to insert the ESC. There was also enough to put a silicone cable which in fact requires considerable space, especially when the front arm is folded back.
Version 3 tricopter frame
 The results of the design tricopter shown in the photo album below:

The uniqueness of vector thrust mechanical 
I designed a mechanical servo for motor on the rear that is different from the general mechanical. Here I directly connect the servo with an iron rod. Iron rod being held by the aluminum tube by using two bearing to reduce frictions. ron rod which is connected to the servo using the servo plastic arm to be cut. Then put into an iron rod and reinforced with bolts. The other end of an iron rod attached to the aluminum tube to hold the motor mount.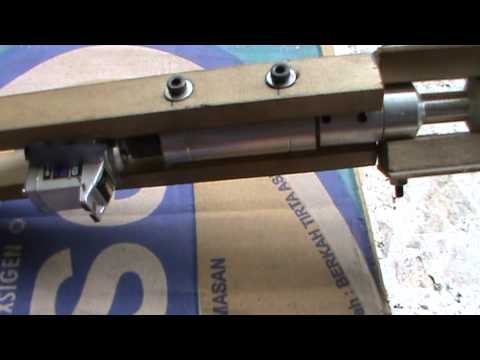 Last updated by Bambang Siswoyo at .